Subsampled image, 60 km by 60 km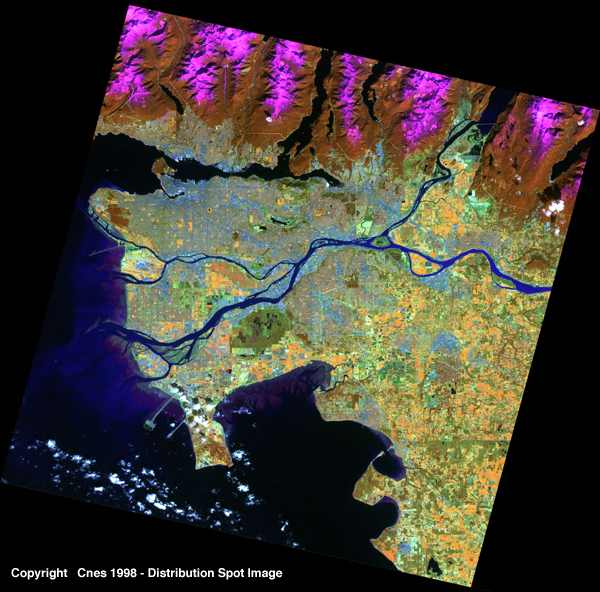 This SPOT 4 scene shows the built-up area of VANCOUVER (British Columbia, Canada) on the west coast of North America. The east/west sound which cuts the city into North Vancouver and Vancouver City, is the Burrard Inlet. The city extends naturally to the east to become the city of Burnaby and, further to the south-east, where it melds into New Westminster on the Fraser river.

The particularly clear image taken by SPOT 4 makes it possible to distinguish between the different elements in the landscape. It is thus possible to make out Vancouver international airport on the south side of the city, the port installations on the Burrard Inlet, the throughways and bridges. Vancouver is the northernmost major port on the Pacific seabord of the North American continent, beating its American competitor, Seattle. The site is protected by Vancouver Island in the west, not visible in this scene.
Along the coast in the south-west part of the image, may be seen the shallows of the Fraser river mouth whose delta faces Vancouver Island. A large breakwater protects the entrance to the port, in the north, from alluvial silting from the delta. At the top of the scene, the snow-capped moutains of Mount Seymour and Port Moody shelter nature reserves on either sound of the north/south stretch of sea that goes by the name of Indian arm.
It may be noted that the very spread-out urban area is crisscrossed by throughways and straight avenues delimiting huge complexes of suburban housing. Thrown shadows reveal the watchful presence of skyscrapers and business and shopping centres. Luckily, the landscape is spotted with parks and green areas which are shown in brown, orange or yellow, depending on the state of their plant growth. Natural vegetation, which is clearly visible with full resolution, and in particular on the island in the Fraser river, stands out as brown and brown-green.

page updated on the 00-06-06